From Columbia to CUNY, there are literally hundreds of colleges in New York. The first step to beginning your new chapter as a college student in New York is to find the perfect accommodation. In this case, choose where to live is essential if you want to get the most out of your college experience.
Selecting a college neighbourhood shouldn't be too tough, though, as several of New York's best neighbourhoods are excellent places for students to live. This comprehensive guide provides all the information you require to select a college neighbourhood in New York and identifies the finest neighbourhoods to begin your search for student accommodation New York. Now let's get going!
Best College Neighbourhoods in New York
Some of the greatest American suburbs and neighbourhoods can be found in New York. Every suburb has its own features and attractions. Because it is home to some of the best institutions in the world, New York is one of the most sought-after states for student housing. Therefore, if you're looking for student housing or rental flats in New York City or are unclear of where to live, we'll provide the best areas and suburbs to stay in.
Brooklyn's Bushwick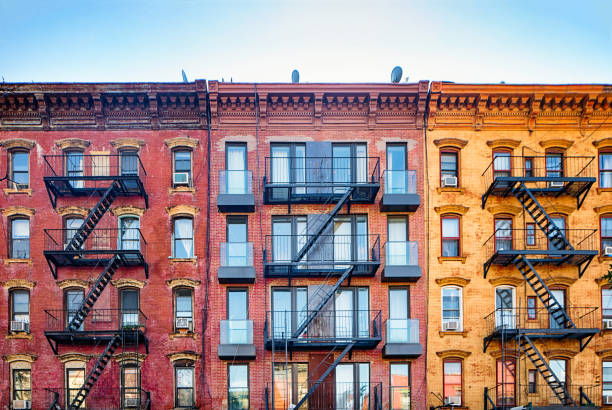 Brooklyn's Bushwick is well-known for its industrial residences and entertainment areas, galleries, live music, street art, and fashion. There is a noticeable Latino impact in the neighbourhood, and between 2008 and 2017, employment in Bushwick grew by 37%. Between 2000 and 2016, Bushwick's rent climbed at a rate that was almost twice as fast as the rest of the city; however, rent can be reduced with roommates and other cost-cutting strategies.
Residents can access books, films and museums for free with library cards provided by nearby branches of the New York Public Library. Access to public transit consists of trains, bus routes and subways.
Fordham Heights, The Bronx
Fordham University's 85-acre campus is located at 441 East Fordham Road and is surrounded by Fordham Heights and Belmont. This multicultural neighbourhood in New York City is home to parks, the Bronx Zoo, and the New York Botanical Gardens. The longest retail strip in the Bronx, Fordham Road runs through the original Little Italy in New York City.
There are many bus routes, commuter trains, and the 4, B, and D underground lines as modes of transportation.
Manhattan
Manhattan is a hub of culture and finance, home to some of New York's most recognisable sites, such as Broadway, Wall Street, and Central Park. When Manhattan first appeared in 1626, it was a province of the New Netherlands. These are the greatest locations to stay in Manhattan, New York, if you're seeking for student housing. Please don't hesitate to visit Midtown Manhattan, one of our student housing options in Manhattan.
Battery Park City, Lower Manhattan
Despite being close to New York's bustling neighbourhoods, this area of town offers safety, tranquilly, and peace of mind. From this suburb, you can see the Statue of Liberty and take advantage of the many parks the area has to offer. 
Washington Heights Manhattan
Washington Heights, a well-known neighbourhood in northern Manhattan, stretches from 155th Street to 193rd Street. For budget-conscious students and young professionals, this neighbourhood is a haven. Nearby are Broadway and W. 181st St., which offer a variety of dining options, retail establishments, and entertainment venues.
Washington Heights ranks 47th in New York for walkability, with a WalkScore of 100 for transportation and 96 for walkability. As of May 2022, there were 1.1498 crimes committed per 1,000 residents in this New York neighbourhood, making it comparatively safe.
Brooklyn
In New York, Brooklyn is a borough that is next to Queens and Manhattan. It is divided from Manhattan by the East River, but is connected to it by the renowned Brooklyn Bridge. Founded by the Dutch in 1636 as a farming community, it rose to prominence as the nation's most significant manufacturing hub in the 1880s. In addition, it is among the US's most populous regions. The borough is home to a number of parks, some of which were designed by the renowned Central Park architects. View our most affordable choice for student apartments in New York City. The Stunning Cosy Apt in the Bushwick neighbourhood is one of our more affordable choices nearby.
Greenpoint, Brooklyn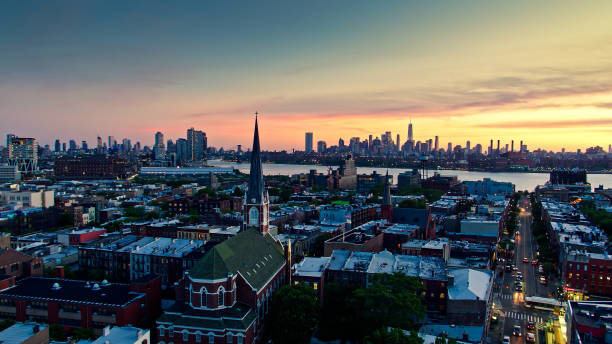 The marine industrial neighbourhood of Greenpoint, Brooklyn, is home to a thriving art, live music, and fashion scene. Many students find it to be the perfect location because it's close to some of the top colleges in New York City. In contrast to other NYC neighbourhoods, the neighbourhood has a tranquil ambiance and a developing waterfront.
Two commuter trains, three bus lines and underground line G are some of the nearby transit alternatives. In terms of safety, Greenpoint ranks among the best, with 0.9415 crimes committed against every 1,000 residents as of May 2022.
Brooklyn Heights, Brooklyn
Brooklyn Heights's architecture showcases a wealth of historical details. It also features the Brooklyn War memorial, which provides an excellent perspective of the skyline of the borough. Although it is tranquil and relaxed, the cost of property is higher there. It's regarded as one of the greatest areas in New York to find off campus student housing and call home. 
New Springville, Staten Island
Situated ad New Springville, Staten Island jacent to the Staten Island Mall and the borough centre is New Springville, Staten Island. Most residents of the neighbourhood are homeowners, giving it a suburban atmosphere. Even though New Springville isn't as bustling as other popular NYC neighbourhoods, students may still find some of the best deals on rentals here. Although there are multiple bus lines, residing in New Springville, Staten Island might necessitate owning a car as the underground system does not reach the area. Additionally, the city has one of the lowest rates of crime.